About
OUR MISSION: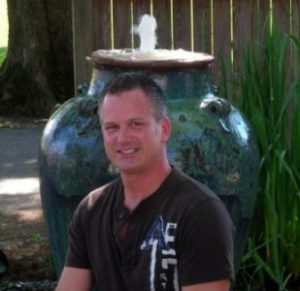 Our mission is to provide quality painted furniture at a reasonable price.
Chad's business has exploded since his humble beginnings of the "shabby chic" white painted furniture era. He has expanded and added his new exclusive Tuscany Collections line:
The "Reflections Series"
French color painted and distressed tremeau and accent mirrors.
The "Seating Collection"
French chairs, sofas, cane, and dining chairs all upholstered in the finest canvas/linen and accented in French burlap.
The newest and most exciting addition is the "Sleep Easy Collection". He has taken boring, drab headboards and beds, and has transformed them into a work of art.
Chad's work has been seen in such publications as Frederick Magazine, Country Living, and The Veranda. His furniture has been shipped from California to Maine and continues to have a huge following everywhere his furniture is displayed.
Barrell & Stone Interiors/Tuscany Designs furniture can be seen at the following venues:
The Old Lucketts Store in Lucketts, VA.
Chartruese Co. in Buckeystown, MD.
Scott's Antique Market in Atlanta, GA.
This show runs the 2nd Thursday through Sunday of every month and has offered Chad the opportunity to sell his wares to several famous designers. Before Michael Moloney made it big on Extreme Makeover Home Edition, he was a monthly regular at Scott's and has purchased many of Chad's pieces, having them shipped to his California based design company. He has also sold to buyers for Ralph Lauren, as well as Paula Dean.
SERVICES:
We cater to interior designers, shop owners and retail clients.  Please see us monthly at Scott's Antique Market located in Atlanta, Georgia.  Visit www.scottantiquemarket.com for a schedule of monthly shows.
Each piece of furniture is painted and unique; no two pieces are alike.  We paint in a variety of colors and can design per your specifications.  Please feel free to contact us for specific designs, etc.
Things you may want to know:
Each piece of Barrell & Stone Interiors/Tuscany Designs furniture is created individually, no two pieces are exactly alike.
We can custom paint any piece for you per your specifications.
We sell our own custom color painted furniture each month at various locations.
You may contact us to request information on specific items.
Email us at tuscanydesigns@comcast.net with any questions about our custom services.